Newsletter
November 2013
Visit Our New Website!
AT LAST! After nearly two years of work, our new website is finally up and running. Please pay us a visit and see what you think (www.o2compost.com). We would love to receive your comments and suggestions.
Our original website was "horse centric" by intention, but if you looked long and hard enough you could also find information about composting landscaping debris, food scrap biosolids, and other more exotic wastes. The original content is still there - plus a whole lot more.
What you will see on our new website is that we have divided our design and training services into four market areas: Agricultural, Institutional, Municipal, and Industrial. If you take a few minutes to review the site, you may be surprised at how many different applications there are for composting.
In the weeks ahead, we will be adding new example projects along with some videos that show our clients' systems in full operation. If you own an O2Compost system, please send us pictures and a short story telling us about how it's working for you, and we may post it on our website.
In the months ahead, we are excited to be adding a log-in page, accessible to each of our clients. The log-in page will include our online training manual along with a wide variety of support documents, hints, and tricks of the trade. We may also develop "community discussion groups" for those who are interested in specific areas of composting, including: 1) vermi-composting; 2) starting a composting related business; and 3) bio-char and compost tea applications, etc.
If you know of anyone who may be interested in on-site composting, please pass along a link to our new site.
---
Recent ASP Hands-On Training Class
In September, O2Compost hosted our third Aerated Static Pile (ASP) Hands-On Workshop and we had a fantastic time. Seven people attended from New Jersey, Florida, Pennsylvania, Quebec, South Dakota and Hawaii.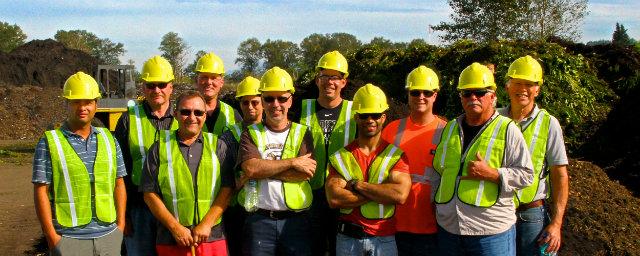 As part of the workshop, we constructed a free-standing Aerated Static Pile at Bailey Compost in Snohomish, Washington, and thoroughly tested the system to demonstrate uniform distribution of airflow and monitor pile temperatures, airflow velocity and pressure, odor management, etc.
The workshop did include some classroom theory, but focused mostly on the how-to's of composting and included a tour of small, medium and large-scale compost facilities in the Seattle area. It completely lived up to our motto: "Seeing is Believing - Doing is Understanding". We also had a ton of fun going out to dinner and discussing how composting figures into the futures of each of our participants.
If you are interested in learning more about ASP Composting, please send us a note and we will add your name to our pre-registration list for next spring.
---
US Compost Council Annual Conference
If you are interested in the "Business of Composting" or if you represent an institution, municipality or industry that generates organic wastes, we strongly encourage you to attend next year's USCC Annual Conference in Oakland, California (January 26-29). It is - hands down - the best conference of its kind in the composting industry.
The conference includes:
January 26: All-day workshops on every aspect of composting.

January 27-28: Breakout sessions, a complete vendor exposition, and social events.

January 29: A full-scale equipment demonstration day with grinders, screeners, turners, and every other piece of gear that you could ever imagine.
On January 26, Peter Moon will be teaching an all-day workshop on ASP Composting. With the information you will learn in his workshop, combined with some practical experience gained through the ASP Hands-On Workshop, you will be all set to start up your own compost facility.
For more information, please visit: http://compostingcouncil.org/conference/uscc_oakland2014/
---
On-Campus Composting Webinar
The US EPA Food Recovery Challenge is hosting a webinar on December 5th. The topic will be: Composting Strategies for Colleges and Universities. The guest speakers will include:
Peter Moon, P.E. - O2Compost, Snohomish WA

Mark Hutchinson - University of Maine, Orono ME

Arthur Kney, PhD - Layfayette College, Easton PA
Universities and colleges generate wasted food from many sources: dining commons, on-campus restaurants, residence halls, sporting venues, and university events. By reducing food sent to landfills or incinerators, schools can save money and reduce their environmental impact. This webinar will hopefully serve to energize students and faculty to take action to reduce or eliminate food waste on campuses throughout the U.S.
As part of the Food Recovery Challenge (FRC), the EPA is working with schools every day to secure the FRC commitment of reducing food waste. One great way to do this is to compost the food scraps generated on your campus. This webinar is designed to identify the factors you need to consider and to provide you with the technical information you will need to start a campus composting program. There are currently over 100 colleges and universities participating in the Food Recovery Challenge.
Who will be the next school to join?
Registration Information