September 2023 Newsletter
Composting Workshop
Back by popular demand ...
Peter Moon (O2Compost) and Justen Garrity (Veteran Compost) will be hosting another On-Farm Composting Workshop in the great state of Maryland. Sponsored by the Maryland Dept of Agriculture, these two one-day workshops will include presentations, hands-on demonstrations, and ample time for Q&A and open discussion among the participants.
Presentations will cover the basics of On-Farm Composting and include a virtual site tour of all sizes of ASP Compost Systems. There will be a discussion on the environmental benefits of composting, and how to use finished compost. In the afternoon, workshop participants will visit an operating facility for a hands-on demonstration of aerated composting.

Date: Friday, October 13, 2023
Time: 10:30am - 4:00pm
Location: Harford County Public Library - Aberdeen
Address: 21 Franklin St, Aberdeen MD 21001
Site Tour: Veteran Compost (328 Bush Chapel Rd, Aberdeen)
Date: Saturday, October 14, 2023
Time: 10:30am - 4:00pm
Location: Rose of Sharon Equestrian School
Address: 5630 Sharon Dr, Glen Arm MD 21057
Site Tour: Same location (Rose of Sharon Equestrian School)
THE AGENDA:
What can be Composted
The Basics of Composting
Composting Objectives
Aerated Static Pile (ASP) Composting
Compost Quality
Uses for Finished Compost
The Business of Composting
Compost Facility Tour
The workshop is FREE for all participants and includes six (6) credit hours (CEU's) approved by the MDA Nutrient Program. Attendees will also receive a free copy of "The Perfect Horsekeeper" by Karen Hayes, DVM.
Choose a link below for more info and to REGISTER for the day that works best for you:
Workshop #1 - Friday, October 13
Workshop #2 - Saturday, October 14
Send questions to peter@o2compost.com.
---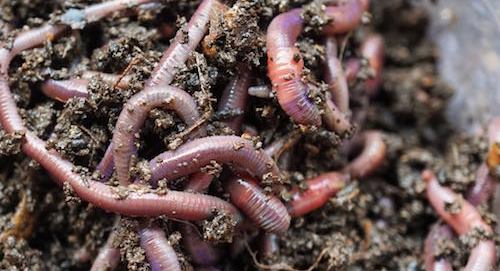 The Business of Vermicomposting
By Peter Moon
Steve Churchill is a pilot with Southwest Airlines and he's a worm farmer, or "vermicomposter" in the parlance of the organics recycling industry. This is a brief overview of Steve's adventure as a vermicompost entrepreneur.
Living in Pennsylvania, Steve was fascinated by the quantity of leaves that dropped from the trees each fall and he wanted to find a way to recycle them, which led him to composting. After several failed attempts at composting leaves alone, he read articles on composting and discovered what he needed was a source of nitrogen to blend with the carbon to "ignite" the composting process. For nitrogen, Steve found a source of coffee grounds and, soon after, his compost pile began to heat up.
Much later, when he dug into the compost pile, he discovered that it was inhabited by a "clew" (large colony) of worms. After more reading, he learned this was a very good thing. However, he also discovered he had an incursion of "Alabama Jumping Worms" (amynthas agrestis), an invasive and undesirable species of worms, and not the "Red Wigglers" (eisenia fetida) that are preferred by vermicomposters worldwide. So he bought some Red Wigglers and started a home worm bin, and the rest is history. Actually, there's quite a bit more to the story ...
Read the full article on our Blog.
---
O2Compost Q&A
"Why are there worms in my compost?"

ANSWER (courtesy of Steve Churchill): Worms eat microbe-rich organic matter and compost is nothing if not a cornucopia of organic matter infused with globs of bacteria, fungio, protozoa, and other goodies. Like pigs to the trough, worms will travel laterally across the ground, or perhaps vertically from the earth below, for their feast.
As for worms in concrete bins, it's likely those worms got imported with the material used to start the compost pile. Even in very hot compost piles, worms will make their way to the edges of the bin where temperatures are likely to be more hospitable. They adapt to their surroundings far more than we give them credit for.
---
Vermicomposting Micro-Bin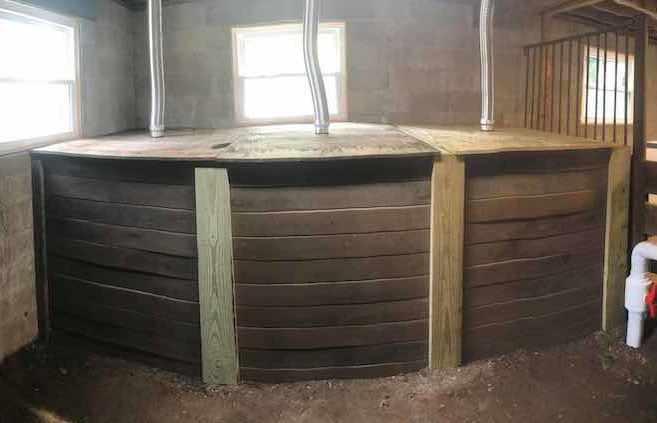 Owner: Steve Churchill
Location: Plymouth Meeting, PA
ON OUR WEBSITE