October 2023 Newsletter

There's Still Room!
Here's our last-minute reminder of the FREE on-farm composting workshop happening next week in Maryland. Peter Moon and Justen Garrity of Veteran Compost will be hosting and educating participants on everything you need to know about managing farm waste. The links below will provide more information and give you an opportunity to register.
WORKSHOP OPTION #1 - Friday, October 13
WORKSHOP OPTION #2 - Saturday, October 14
Don't forget ... the workshop is FREE for all participants and includes six (6) credit hours (CEU's) approved by the MDA Nutrient Program. Attendees will also receive a free copy of "The Perfect Horsekeeper" by Karen Hayes, DVM.
---
Client Success Story
We appreciate that Joan Twining, Founder, Executive Director, and Vision Keeper of Rose of Sharon Equestrian School is allowing us to host the Saturday workshop at her facility in Glen Arm, MD. Following years of fundraising and research, Joan asked O2Compost to help her institute a sustainable and environmentally-friendly waste management system. In 2012 she completed construction of her Cornerstone System and loves it.
Read Joan's Testimonial on our website. Our workshop attendees will get the opportunity to see this system in action on October 14.
Not only is her farm waste management plan a success, so is the amazing equestrian school she has created. Rose of Sharon offers programs in therapeutic horsemanship for individuals with disabilities (especially children and youth). Her facility also benefits the community by offering volunteer openings for retirees, internship and research opportunities for college students, service learning projects for middle and high schools, and merit badge workshops for scouts.
Thank you, Joan, for being a good steward of the environment and a "Vision Keeper" for the wonderful program you have created at Rose of Sharon Equestrian School.
---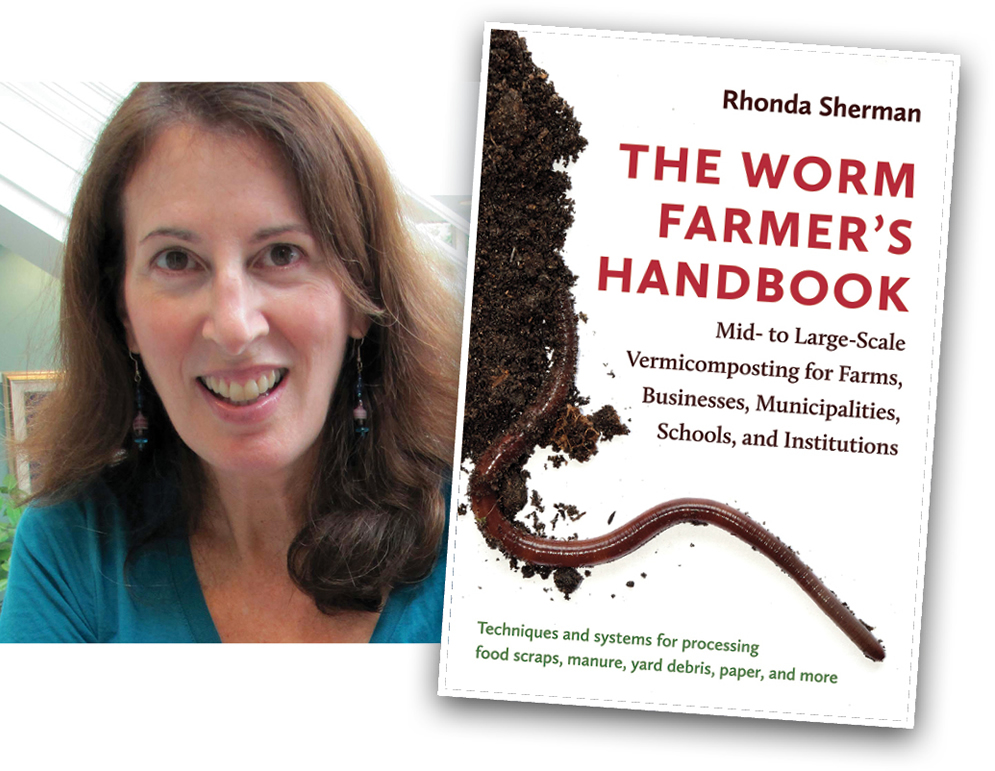 The Business of Vermicomposting (#2)
By Peter Moon
My friend Rhonda Sherman wrote "The Worm Farmer's Handbook". It is a detailed look into the implementations of mid to large-scale vermicomposting for farms, businesses, municipalities, schools and institutions. If you are considering a future that includes vermicomposting as a hobby or business venture, I strongly encourage you to purchase a copy of this book, and read it cover to cover.
Rhonda's story about how she became one of the world's experts in vermicomposting was truly serendipitous. She was hired in 1993 by the North Carolina State University (NCSU) to educate local governments, businesses, and citizens about recycling.
As a faculty member of NCSU, Rhonda was expected to publish (or perish) and she outlined a set of six fact sheets on recycling (e.g. construction waste, business waste, etc.). She also included an idea for a seventh fact sheet titled "Worms Can Recycle Your Garbage".
Read the full article on our Blog.
---
O2Compost Q&A
Compost System Placement

"Is it safe to place my compost system near a well or other water source?"
ANSWER: It is always a good idea to locate your O2Compost System at least 50 feet away from a well, pond, or creek. However, with our Benchmark, Cornerstone, and Paragon Compost Systems, the bins have sidewalls and a floor that is comprised of a concrete slab that effectively isolates the manure from the environment.
The ideal mix of materials that is placed in a bin should have a moisture content of 60-65% which feels wet but isn't so wet as to drain water to the base of the pile.
---
New ASP System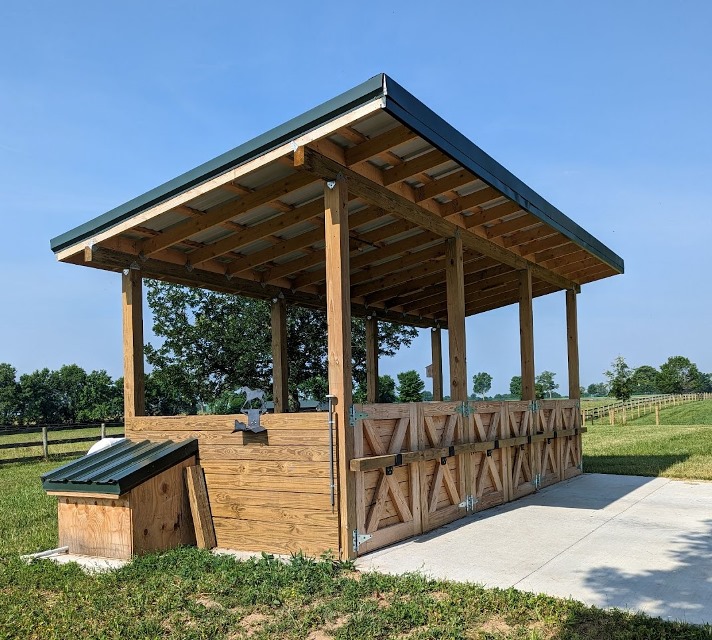 Owner: Karen H.
Location: Harrodsburg, KY
ON OUR WEBSITE